Website Designed by R Sanders for Belper Celebration Group
Copyright @ Belper Celebration 2018
BELPER EARLY YEARS FUN CENTRE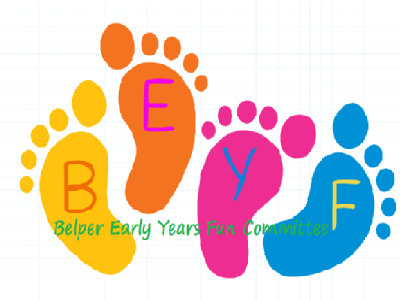 For more information about activities/events, please contact your local Children's Centre:
Belper Early Years Fun Centre
Alder Road, Belper
Derbyshire. DE56 1LP.
Telephone:- 07736309975
Email:- belperearlyyearssfun@gmail.com
Angie Hodgson
Groups / Sessions
FUN SESSIONS CHILDREN MUST BE ACCOMPANIED BY AN ADULT
ADULTS ARE RESPONSIBLE FOR CHILDREN IN THEIR CARE THROUGHOUT THE SESSIONS
SENSORY ROOM AVAILABLE — MONDAY / TUESDAY / FRIDAY
The sensory room is available to book for FREE at Belper Children`s Centre. It is a special area for sensory stimulation using lights, sound, smell and touch. It is a great way to chill out and listen to music while having a sensory experience. Perfect bonding time for you and your child
Where booking is essential, please note the following:
* Parents/carers must call the number provided or pop into the Children's Centre to place name onto booking form.
* Booking /show of interest can be taken up to 10 days before start date.
* Booking doesn't guarantee a place: priority to be given to parents who haven't been before.
* If not given a place, your name will remain on list for future sessions.
* Families offered a place will be contacted up to 1 week before start date.
* Children are the responsibility of parents/carers at all times except when in a creche facility.
* If parents/carers miss 2 consecutive sessions (without prior notice) your place may be offered to a waiting parent on the list.
* If there is a creche attached to the activity, we ask that parents/carers arrive at least 20mins prior to the start of the
very first session to complete creche forms -- help available.
Belper Celebration can not be held responsible for any changers made by the Belper Centre to this information.